Both those stars are in "Origami for beginners" by Vicente Palacios, ISBN 0486402843, and were designed by Francisco J. Caboblanco (pages 25 and 31). I love Palacios' books and buyed all of them (second-hand), but they're probably not good for beginners – very good for intermediary level, though.
The left star is made of 8 sheets of 7 cm Grimmhobby Senbazuru Chiyogami. The right star is made of 8 sheets of 7.5 cm washi Chiyogami.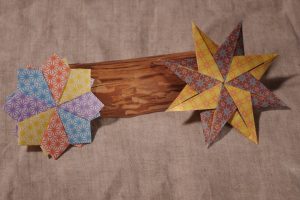 The back of the stars is different, and nice too.