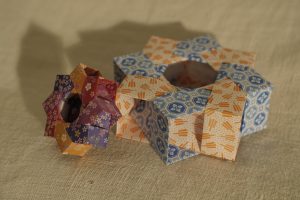 This model is by Michael G. LaFosse, I got it in a Geometric Origami Kit offered by my sister (the models are mostly good, but the paper texture is bad and creases leave white marks). Each module is quite easy to fold, the assembly is straightforward too, but I find it really hypnotizing to fold – I've made it many times :)
It reminds me of chidren water wheels that I've always been fond of.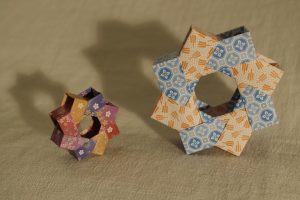 There are other pretty models in the kit, but I have no photos of them yet, so maybe in another article :)
The papers of the pictured wheels are 15cm and 7,5 cm squares.