These models are both by Tomoko Fusè. The star on the left can be found in "Origami you can play with" (japanese), ISBN 4416300123, page 50. The pyramid ("modular ditetrahedron") is in "Origami from around the world" by Vicente Palacios, ISBN 978048422220, page 74.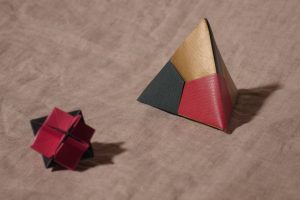 The pyramid is folded of 6 sheets of 15 cm kraft paper from schoenepapiere.de (the website is down, not sure if the shop will ever open again).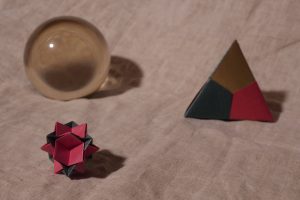 The star is folded of 6 sheets of 5 cm pearl paper from Jong le Nara + 6 sheets of 2,5 cm (I cut two sheets in 4) for the black points.